Bridal Showers are a fun event to throw because let's face it you mix a little champagne with some pre-wedding excitement and everyone has a good time!  Besides, the design options are endless so get creative with your theme.  Note:  You do not have to stick with the colors the bride has chosen for the wedding! I consider the bridal shower as an event that the bride really shouldn't really have to much input it other than the guess list.  She has enough on her plate with the wedding, so let this be something that even she will be surprised when she walks in!  However, if your bride to be is very hands on, this approach may not work so play it safe if need be.
Suggestion: Contact a local wedding coordinator if you need assistance getting organized or getting vendor suggestions for  food, rentals (such as tables, chairs, linens) or even fun favors!  
1. Decor  Choose a playful or glam color scheme with fun pops of color or textures.  Save yourself time by finding coordinating paperie/decor packages that include invitations, banners or signage.
Minted's "Wildflowers" theme uses graphic prints and an understated color palette which allows you to throw in mixed textures and metallics for accents.
Wildflowers Party Decor - $1.70 from: Minted
You can mix textures like glittered champagne flutes to add a little sparkle. Catch the How-To Project on DIY Champagne flutes here.  
Create a simple floral arrangement and spruce it up by adding the glitter element on a variety of glassware.
Photo Credit: http://studioblush.com/blog/blush-floral-design/bridal-shower-2/
"Botanical Wreath" Mixes a variety of colors which gives you a lot of options for decor. You could easily choose a cream or blush linen to keep it light, or add a hint of formality with a black linen.
Botanical Wreath Party Decor - $1.70 from: Minted
Botanical Wreath Circle Garlands - $1.70 from: Minted
Botanical Wreath Table Signs - $1.70 from: Minted
2. Refreshments Lets face it, a party just isn't a party without yummy treats!  Depending on the time you plan on starting the event, you can choose to serve light refreshments, heavy hors d'oeuvres or a full meal/dinner.  We found a few inspirational ideas:
Photo Credits: www.Bridal Detective.com Photo Credit: Rochebros.com Photo Credit: Themeaningofpie.com Photo Credit: http://www.madiganmade.com
3. Entertainment
Choose the entertainment based on the group, usually a couple of games will get the party going and the crowd to mix.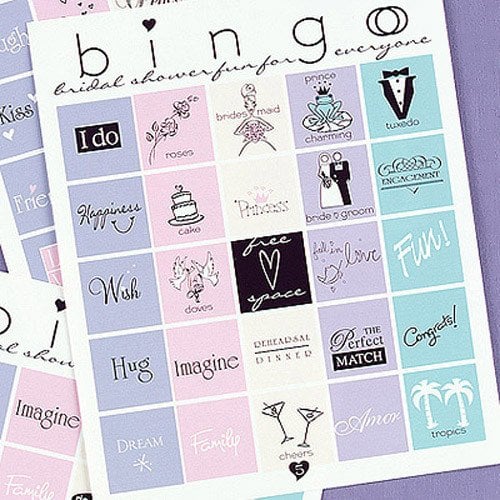 Bridal Shower Bingo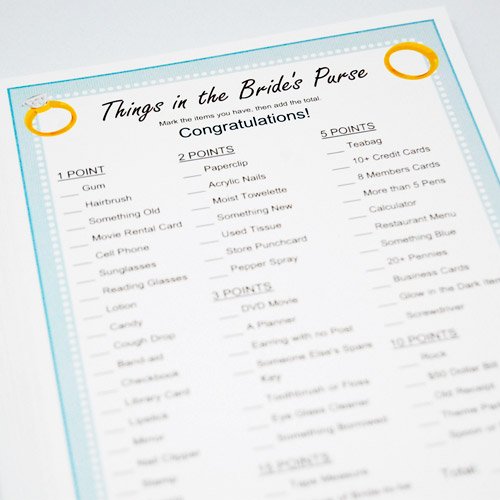 Exclusive Personalized Things in a Bride's Purse Game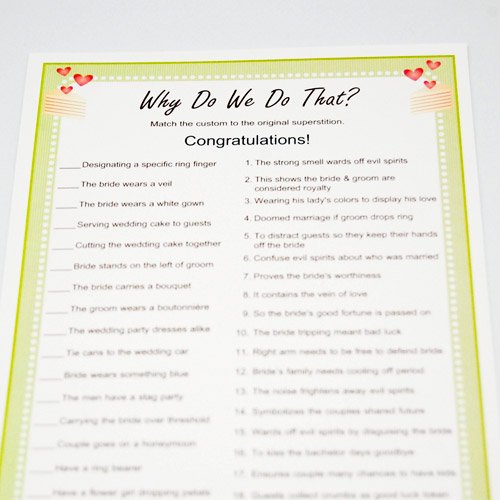 Exclusive Personalized Why Do We Do That Game
If you know the bride well, and want to create a little spicier of a party: Ask the guests to each bring a pair of panties (you can call each guest and tell them what size the bride is and explain the game) so that the bride will have to guess who brought what, and turn a few shades red..
Check out this blog post from "Skip to the Details" where we found the game (it looked like a fun bridal shower!)
There you have it, the bride will be sure to remember this day as a time when her friends and family threw her a kick *** party!  Send the bride home with some treats, and of course the list of who gifted what so that she can get started on those thank you cards!
Happy Planning! Related Articles: 50's Theme Bridal Showers
************************ Affiliate Disclosure: The 530 Bride is a member of Minted Affiliate Marketing and may receive compensation for products purchased via links on our site.